Nominasi YouTube Music Awards 2013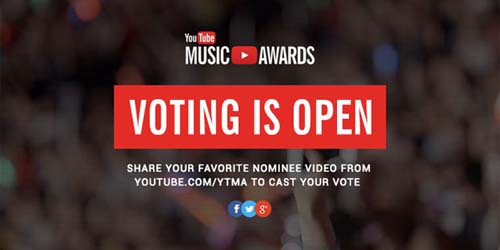 Daftar nominasi di acara YouTube Music Awards 2013 telah diumumkan, ayo dukung idolamu!

Youtube telah mulai melakukan proses voting yang berdasarkan pada view, keterlibatan penggemar, serta pencapaian artis-artis YouTube ternama seperti Miley Cyrus, Lady Gaga dan PSY.

Acara YouTube Music Awards 2013 tersebut akan dilaksanankan di New York, Amerika Serikat, pada 3 November 2013 mendatang.



Berikut daftar nominasi YouTube Music Awards 2013 :

Video of the Year:
Demi Lovato - Heart Attack
Epic Rap Battles of History - Barack Obama vs Mitt Romney
Girls' Generation - I Got A Boy
Justin Bieber (feat. Nicki Minaj) - Beauty And A Beat
Lady Gaga - Applause
Macklemore & Ryan Lewis (feat. Mary Lambert) - Same Love
Miley Cyrus - We Can't Stop
One Direction - Best Song Ever
PSY - Gentleman
Selena Gomez - Come & Get It

Artist of the Year:
Eminem
Epic Rap Battles of History
Justin Bieber
Katy Perry
Macklemore & Ryan Lewis
Nicki Minaj
One Direction
PSY
Rihanna
Taylor Swift

Response of the Year:
Boyce Avenue (feat. Fifth Harmony) - Mirrors
Jayesslee - Gangnam Style
Lindsey Stirling and Pentatonix - Radioactive
ThePianoGuys - Titanium / Pavane
Walk Off the Earth (feat. KRNFX) - I Knew You Were Trouble

YouTube Phenomenon: 
Diamonds
Gangnam Style
Harlem Shake
I Knew You Were Trouble
Thrift Shop

YouTube Breakthrough:
Kendrick Lamar
Macklemore & Ryan Lewis
Naughty Boy
Passenger
Rudimental

Innovation of the Year: 
Anamanaguchi - ENDLESS FANTASY
Atoms For Peace - Ingenue
Bat For Lashes - Lilies
DeStorm - See Me Standing
Toro Y Moi "Say That"